The grip of a badminton racket is one such minute detail that can have an everlasting impact on your game and career.
A firm grip can open doors to complex shots, without getting you injured. The force of your swing is efficiently transferred to give power to your shot and unlock unreachable ranges – All that for a few dimes!
In this guide, we considered every possibility, from adding thickness to the grip to stuffing it with cushioning and much more. This led us to compile our list of the 5 best badminton racket grips to satisfy the likes of ALL.
Our Picks For The Best Badminton Racket Grips:
Best Badminton Racket Grips: Our Picks
Yonex Super Grap Overgrip
Up first on our list is the all-time favorite overgrip maintaining a fanbase since 2012 — Yonex Super Grap Overgrip. At first glance, it may seem a bit pricey, but the fact that it comes in a tape long enough to wrap about three handles justifies the cost.
Now, the best part about this overgrip is the way it absorbs the sweat in hot and humid weather conditions, nothing less than a sponge! It offers a tacky grip while maintaining the comfort and squishiness of the grip. This all works together to proffer you with a firm grasp on your racket that gives you more control and flexibility on the court.
Yonex made this product more durable than any other in the market which saves you a substantial amount of money in the long run.
Wilson Pro Racket Overgrip
Wilson is an honorable name in the world of sports rackets. They produced this overgrip using microfiber material with improved stretchy characteristics. This unlocks the possibility of shock absorption and eases the grip changing process.
The polyurethane structure enables a luxuriously soft-grip without compromising on quality and durability. It offers amazing tackiness which keeps the traction of grip intact even in cold conditions.
Being an overgrip, Wilson Pro will slightly increase the thickness of the grip but thanks to the thin tape, the difference will not be out of the ordinary.
It has a moderate capability of absorbing sweat and may get slippery if you sweat a lot. It comes in a pack of three in a variety of 7+ colors.
Gamma Supreme Overgrip
Have you lost your patience in dealing with flaky grips just after a few weeks of replacement?
Your misery is a history with Gamma Supreme Overgrip. The name speaks for itself as this overgrip provides "Supreme" traction with enhanced tackiness under a very affordable price tag.
It employs high-tech resistive material that offers a tear-free response to long hours of regular play. Gamma believes that the low stretch feature positively impacts the longevity of the overgrip while angled edges facilitate putting on the grip.
Gamma Supreme Overgrip may not be the best in absorbing the sweat or maintaining a moisture-free grip, but the polymer layer at the top along with a non-woven base helps you rule the court.
Senston New Racket Grip
Senston New Racket Grip is a sensation for professionals and beginners alike. The 5-colored grip is especially for players looking for extra thickness to get a solid grip that never misses a smash. The squishiness is a pleasure to hands during long training sessions with air ventilation holes for faster drying.
Speaking of dry, the uneven texture of this grip allows tackiness while the thickly cushioned grip soaks up all the sweat to maintain an anti-slip surface.
Build-wise, high standard PU material has a good reputation in durability and flexibility to prevent injuries by mitigating the impact of strikes.
HEAD Super Comp Racquet Overgrip
To end it on a high note, our last pick is the best value for money. HEAD Super Comp Racquet Overgrip is an affordable solution to all racket grip queries. Head has proved to be the best in the game by discovering the right balance between tackiness and comfort and applying it to their product. They used elastomer material that wraps firmly on the handle without loosening the grasp for years.
What you might also love about HEAD Super Comp Racquet Overgrip is the way it dries off the sweat giving extra precision and power to your shots – Especially the complex ones!
Uses of Badminton Racket Grips
Earlier we discussed how the science behind badminton racket grips can have a perpetual impact on your career. Let's dig deeper to unveil the uses of badminton racket grips inside the court.
Grip size
A thinner grip will give you more control and a better badminton technique with a grip that perfectly embraces your fingers. On the contrary, a thicker grip will give you a stronger grip for powerful strikes.
Grip Weight
Grip weight heavier than the racket head shifts the center of gravity towards the handle, giving you extra precision and control. Conversely, a lightweight grip grants superfluous power to your shots by effectively utilizing the moment of your shot.
Tackiness
Tackiness is the measure of stickiness that a grip offers to the gripping hand. If you prefer a smooth grip then good tackiness can make up for the frictional needs.
Sweat Absorption
It is the ability of the grip to absorb the sweat to prevent accidental slips by keeping the grip dry.
Types of Badminton Racket Grips
Rubber Grip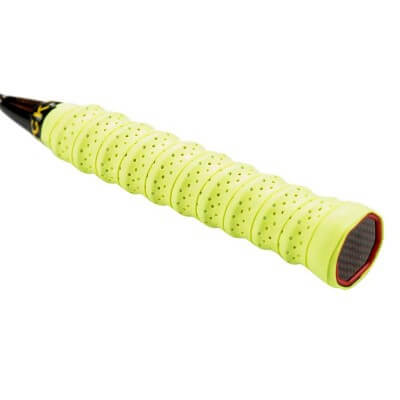 Rubber grips come with the racket in most cases and are prone to wear out quickly. They are composed of synthetic rubbers, such as polyurethane (PU). It provides decent tackiness but does not hold onto the handle that well.
Towel Grip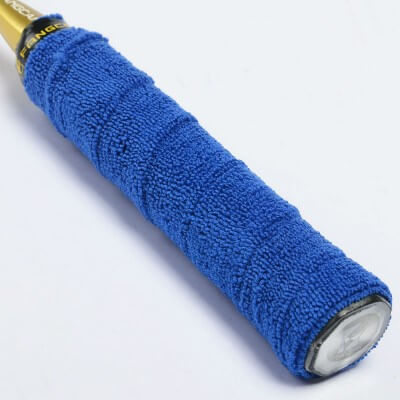 As the name suggests, this type of grip is thick and works wonders to dry off sweaty hands. The cotton-made grip is suitable for power hitters as it provides a solid grasp.
Over-Grip
Overgrips are wrapped around original or replacement grips to step up the game. They are less costly in comparison to grips and help fulfill individual preferences. Generally speaking, they all are aimed to bring comfort and dryness to your grip.
Best Badminton Racket Grips: FAQs
Q1: Which grip is best for a badminton racket?
Yonex Super Grap Overgrip is widely accepted as the best badminton racket grip because of list qualities. For starters, it provides remarkable tackiness with a soft grip feeling that unlocks the possibility to play versatile shots without getting sore hands. It absorbs sweat really well even in hot weather conditions and is available at a very reasonable price.
Q2: Can you use a tennis grip for badminton?
Yes. It is possible to use a tennis grip for badminton rackets. Since they both slightly vary in length, make sure to cut the length from tape accordingly or overlap it if required.
Q3: How do you tie a grip on a badminton racket?
First, Start by unwrapping the current grip. Then place the tip of the new grip on the bottom of the handle. Thrid, peel of the plastic layer from the new grip before starting to tie it around the handle. Fourth, overlap the turns depending on your preferred thickness. Last, keep the grip tight while wrapping to avoid any wrinkles.
Final Verdict
This brings you to the end of our guide for Best Badminton Racket Grips.
We left no stone unturned in our quest to get you a grip that complements your style of play. Yonex Super Grap Overgrip will save your day if you sweat a lot while Wilson Pro Tennis will stay by your handle for long runs. Now that you know your option, go ahead and make your pick.
And do remember, you're only as good as your equipment!
Read Also: